Digital presentation of a Speedlight Nikon SB 26 Owners Information on all functions, operations and compatibility for all Nikon SLR's current and post production. 147 page PDF. File Size = 5.17 MB.
Only $3.99

Speedlight SB26 Owners Manual PDF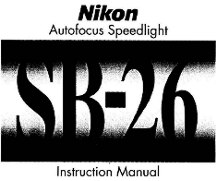 For more information on how these images
were acquired, click here.